Tanner Lane Rotational Public Art Commissions
Artists: Kathrin Böhm (2022), Long Distance Press (2024)
Partnering with The Showroom, a public contemporary art space based nearby Paddington Square, the programme will see the creation of a new series of collaborative artworks at Tanner Lane, situated between Paddington Square and St Mary's Hospital.
The commissioned artworks will each be in-situ for one year at a time, providing a rotational site for temporary public artworks, each responding to the overarching theme of 'care'. Created through community engagement, the wall cycle creates a new context for The Showroom's programme in Paddington, allowing a wide audience of visitors, workers and local residents to enjoy and engage with contemporary art practices.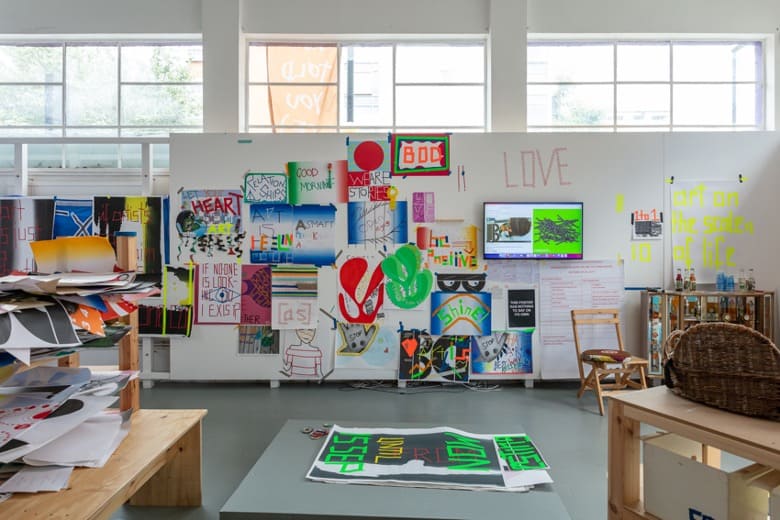 Launching in 2022, Kathrin Böhm responds to the theme of 'care' by asking: "why do we care about art?".
Böhm explored individual responses to this question through collaborative poster-making workshops throughout July-October 2021. Her artwork at Tanner Lane will project a chorus of voices through a process of assimilating and responding to the assemblage of statements created by each workshop contributor. The series continues in 2024 with the collaborative practice, Long Distance Press (Adam Shield and Thomas Whittle) . Each project is realised with community engagement and offers a new model for exploring current cultural themes in the public realm.
"Lacuna conducted extensive research into the neighbourhood, working with local communities and engaging with a diverse set of stakeholders, greatly enriching our curatorial approach and the development of these landmark commissions with leading contemporary artists. While lockdown presented us with new challenges, it also allowed us to develop novel methods for critical engagement with the evolving cultural conversation." – said Stella Ioannou, director and Jade Niklai, associate curator, Lacuna
Paddington Square is London's new quarter for work, culture, retail and dining at the heart of Paddington's regeneration. Conceived by developer Sellar, a 14-storey crystalline building designed by architect practice Renzo Piano Building Workshop will sit at the centre of the new development. It includes a new Bakerloo Line entrance for the London Underground, west London's highest rooftop dining experience and a 1.35-acre public square, providing a striking new arrival experience for Paddington Station.

The Paddington Square public art programme is commissioned by Sellar and curated by Stella Ioannou, director and Jade Niklai, associate curator, Lacuna.