The Otolith Group's first presentation and engagement with Central Europe.
The Otolith Group's residency at Blood Mountain Foundation in February 2012 supported the collective's ongoing research about the politics of nuclear energy. As the collective's first visit to Central Europe, Blood Mountain provided curatorial and research support using Hungary's historic and filmic archives and presented numerous public events, organised in partnership with Tranzit HU. A short sojourn led to ongoing conversations and  the realisation of two new artworks (including one premiere at Documenta 12) .
Artist Statement
"For a brief time, a new air, The Otolith Group, I will admit, was somewhat skeptical; it never quite grasped the point of participating in a residency; the raison d'etre for a residency was never, quite, convincing; and yet, there they were, Jade and Tom [from Blood Mountain] in the back garden, in N16; they themselves, in their enthusiasm, seemed to suggest otherwise; their persistence intimated that a residency could, possibly, offer an opportunity to temporarily adjust perspective; the fact that one couldn't determine its purpose in advance, began, then, slowly, to appeal; could a residency be its own reward, an invitation to breathe a new air, for a brief period of time? At which point, The Otolith Group found itself, there, in Blood Mountain, in February 2012, in a house of empty rooms, with a polished floor, on a street, on a hill, in a city, under snow, bisected by a river of ice, crossed by majestic bridges; there we were, in the middle of a series of small unexpectednesses, continually surprised by unforeseen realisations, engrossed in interrupted conversations that lasted, uninterrupted, for fourteen days, caught in the gentle fire of misunderstandings, mistranslations, unlooked for kindnesses and undeclared generosities, arrested by encounters with shop signage and street names that recalled names absorbed from articles in sought after copies of Artforum and Village Voice from the mid-1980s, the names of New York pop culture legends like Edit Deak, Joe Esterhaz and Ester Balint; these impacts, as glancing as meteorites, accreted into an emotional climate, in which habits were forestalled so that ideas might, perhaps, emerge. Looking back at Blood Mountain, from the other side of 2012, it appears that  those days, as brief as frost, spent in Budapest, acted, for The Otolith Group, as a kind of chrysalis, a shelter capable of protecting contingency, harbouring insight, favouring intuition and shielding the imperceptible." – wrote Kodwo Eshun, The Otolith Group, 30.11.2012
Brief History
Hungary had a strategic position during the Cold War as the most 'western' point of the Eastern Bloc, and it therefore had a disproportionately high number of nuclear plants, nuclear scientists and fear-mongering about nuclear warfare. The three key scientists responsible for the subsequent invention of atomic energy – Leo Szilárd, Edward Teller and Eugene Wigner – were born and educated in downtown Budapest in the early 20th century. Budapest was also an important hub for the education and practice of both scientific and film innovation between the two world wars, fostering its early pioneers before their respective emigration: Alexander Korda, who became a founding figurehead of the British film industry; and Michael Curtiz, who was a key player of Hollywood's golden years. During the post World War Two Soviet era, the city was used as the production set for some of the most ubiquitous Soviet fictive, documentary and propaganda films, often made by anonymous local film-makers.
The Radiant, 2012
HD video, colour, sound, 64 min 14 sec
The Radiant explores the aftermath of 11 March 2011, when the Great Tohoku Earthquake struck the North East Coast of Japan at 2.46pm, triggering a tsunami that killed tens of thousands and causing the partial meltdown of the Fukushima Daiichi nuclear power plant. In the fissures opened by these catastrophes, The Radiant travels through time and space, juxtaposing the historical promise of nuclear energy with the future threat of radiation. Under these conditions, the illuminated cities and evacuated villages of Japan can be understood as a laboratory for the global nuclear regime that exposes its citizens to the necropolitics of radiation. The work incorporates original footage from Hungarian-made socialist era educational and propaganda films found in the Open Society Archive's Paranoia Recycling Archive (courtesy of Central European University, Budapest).
The Budapest-based OSA's Paranoia Recycling Archive consists of 69 Hungarian educational and propaganda films about atomic, biological and chemical warfare, and provides unrivalled insight in to the centralised fear that prevailed and represents the medium's seminal role in its dissemination. Government sanctioned films made in the 1950-60s taught viewers how to build bomb shelters in their backyards, how to respond to a nuclear attack and how to combat radioactivity from their environment, food and pets. From the 1970s, the films featured civil defense organisations and provided logistical information about how to evacuate entire cities. Some of the films were adapted from Soviet originals and were regularly screened in schools, workplaces, cultural centres and in cinemas before feature films. A selection of these short instructive films feature prominently in The Radiant.
Commissioned by dOCUMENTA (13) in Kassel. Executive Producer: Foundation for the Museum of Contemporary Art of Barcelona with support from Project 88 in Mumbai, Zavod Projekt Atol in Ljubljana, Blood Mountain Foundation and Open Society Archives in Budapest.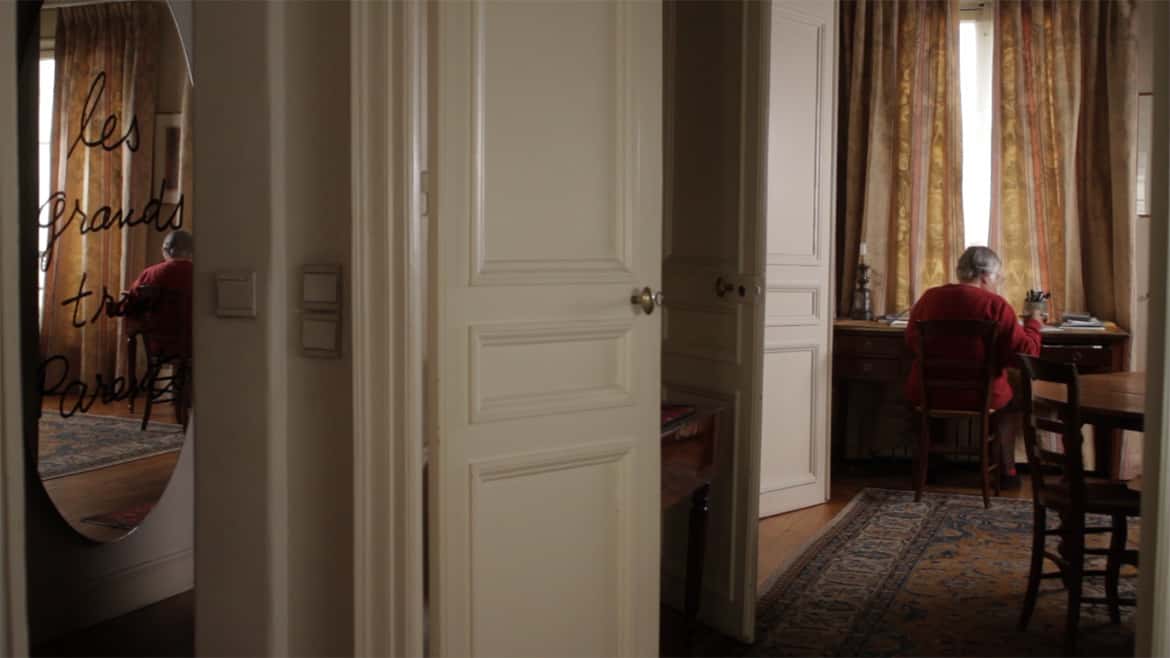 I See Infinite Distance Between Any Point and Another, 2012
HD video, colour, sound (stereo), 33 min 32 sec
Etel Adnan's highly influential writings in French, English and Arabic have been read around the world. Her recent book, Sea and Fog (2011) evokes the sea as a metaphor for power, exploring the nature of the individual spirit and the individual spiritedness of the natural world.
The Otolith Group's film is made largely in Adnan's Paris apartment and centres on a reading of her poem, Sea (2011), which draws upon philosophy to meditate on matter and anti-matter. The sound of Adnan's voice, and the quiet but ever present ambient noise in her apartment, create a film with a powerful, meditative atmosphere, that speaks of the mobility of thought and the movement of the ocean. Sea draws upon the powers of philosophy to pursue the continuous mutation of matter into velocity. If poetry can be understood as a study in constraint, this work can be understood as an experiment in concentration that speaks of the mobility of thought and the movement of the ocean. It might also be understood as a study in gestures, following from The Otolith Group's Hydra Decapita (2010) and The Otolith Trilogy (2003, 2007, 2009) on hydro-politics and hydro-aesthetics. This interest in hydro-politics and hydro-aesthetics benefited from unusually cold weather conditions during The Group's residency at Blood Mountain and contributed to the work footage of a frozen River Danube.
The artwork incorporates original footage shot in Budapest with the assistance of Réka Pigniczky (Blood Mountain trustee and documentary filmmaker, 56Films) and Gergõ Kiss (cameraman).
Executive producer: Foundation for the Museum of Contemporary Art of Barcelona with support from Blast Theory, Fabrica, Lighthouse, Photoworks, Faculty of Arts University of Brighton UK, Blood Mountain Foundation in Budapest and Project 88 in Mumbai.