This vibrant and central Q&A discusses the relationship between contemporary design and society—our spaces, environment and experience with the world.
Written by Jade Niklai
Published 14 September 2022
JN: After 17 years abroad, you recently returned to Australia with an illustrious career as an international thinker, curator and educator of architecture and design. You spent the pandemic in Sydney, your place of birth. What was your experience of returning home?
KG: Finding myself unexpectedly back in Australia has been a delight and an unfolding adventure. I have felt revived by looking with fresh eyes at the country I call home. At first it  was an opportunity to re-walk the streets of my childhood, becoming reacquainted with places and with my younger self as memories were triggered by simple details like cracks in the pavement. I have been awestruck by the natural beauty of Australia and Sydney with its pockets of bushland, an instant foil to the pace and sounds of the city, so vital to preserve and ensure it is available to everyone. The sun, wind and rain come with force and are a humbling reminder of our place on this earth and our need to preserve its wonder for generations to come.
For me the most striking change in the 17 years I was away has been the shift in conversations surrounding Aboriginal and Torres Strait Islander Peoples and cultures. Something has shifted in the national psyche with the long-overdue Apology and momentum towards reconciliation. Today it is not  possible to plead ignorance of the ongoing systematic oppression and injustices experienced by Aboriginal Australians since colonisation. I have been heartened by the growing respect for the Ingenious Australian custodianship of Country and the realisation that non-indigenous Australia has a lot to learn from First Nations Peoples and cultures.
JN: You often work with body movement practitioners, including choreographers and dancers, which is a pioneering approach for a curator of architecture and design. Even your recent lecture for Grimshaw Australia was evocatively titled 'Dialogues: Body, Time, Space'. How does this multidisciplinary approach inform your practice?
KG: I have spent most of my career programming at the Royal Academy of Arts in London – an independent cultural institution founded in 1768, run by artists and architects. In this context it was vital to cultivate broad and progressive ideas about architecture that are relevant to both the profession and the public: cross-disciplinary discussions are central to this.
KG: My work has often focused on our physical presence and sensorial experience of the world, which I associate with Australia: being outdoors and in contact with the elements. I have pursued embodied practices as a universal language and connector that invites people to explore and express ideas through the body. Conversations with dancers and choreographers such as Vera Tussing, have been especially enriching in asking critical questions, such as, How does a body take up space? What are the rhythms of a place created by collective bodies? What impact do spatial conditions have on our bodies? Whose body has permission to be in places?  
KG: Dancers speak in terms of flow and reciprocity: in 'give and take'. This approach corresponds to my understanding of architecture not as a fixed physical entity; rather, as something that evolves with time, use and circumstance. I imagine us having an exchange with buildings – they impact us and we impact them – we live with them and in them differently over time.
JN: In other words, you define your curatorial practice in dialogue with people, places and time itself. How important are process, exchange and reciprocity to this exchange?
KG: For me, dialogue is key to the progression of ideas. This occurs across my curatorial work from exhibitions to public programming, with lasting impact on my creative process and a project's character and outcome. For instance, curating the exhibition, Sensing Spaces (2014), that highlighted the sensorial and experiential qualities of architecture, I commissioned seven architecture studios to each create a new space within one exhibition. It was an intense exchange with the architect-collaborators, the physical galleries, the institution and the audience. It is important for me that a project remains open and the audience is invited to enter into an intellectual and emotional dialogue with the ideas.
JN: How does your training as an architect inform your exhibition-making?
KG: I think spatially and experientially. In an exhibition an audience's understanding and knowledge is developed through interpretive labels and also conveyed through the design experience. When curating the exhibition, Renzo Piano: The Art of Making Buildings (2018), I worked closely with the architect on the design, structure and pacing of the exhibition. Projects were laid out on tables in two light filled rooms, with building fragments and models suspended above. The visitor could perceive Piano's love of making, his aspirations for lightness and experience his social agenda by viewing works sitting around tables together. By contrast, a dark, central room with a film and an 'island' of models of all his buildings, offered a more intimate view of his life and ideas.
KG: Combining spatial thinking and experience design with an interest in the city has also led to directing projects such as arts festivals and temporary public art commissions, such as the temporary urban intervention, Unexpected Hill by SO Architecture and Ideas I am often working on the blurred edges between disciplines, defined not by outcome as much as a way of thinking or approach to what I do.
JN: What is 'public art' to you and can you share a 'successful' example of it?
KG: Public Art is an artistic project in the public realm that could be permanent or temporary and is most successful when the setting enhances the work or vice versa and the viewer is moved to think or feel differently. A project that comes to mind is RA Schools graduate, Ryhs Coren's Love Motion (2018), that I commissioned for Lumiere London. It was a large-scale Matisse-inspired animated projection of two paper-cut figures who dance and intertwine to a bespoke mesmerising soundtrack. Projected onto the front façade of the Royal Academy, it transformed the courtyard into a space of intimacy and magic.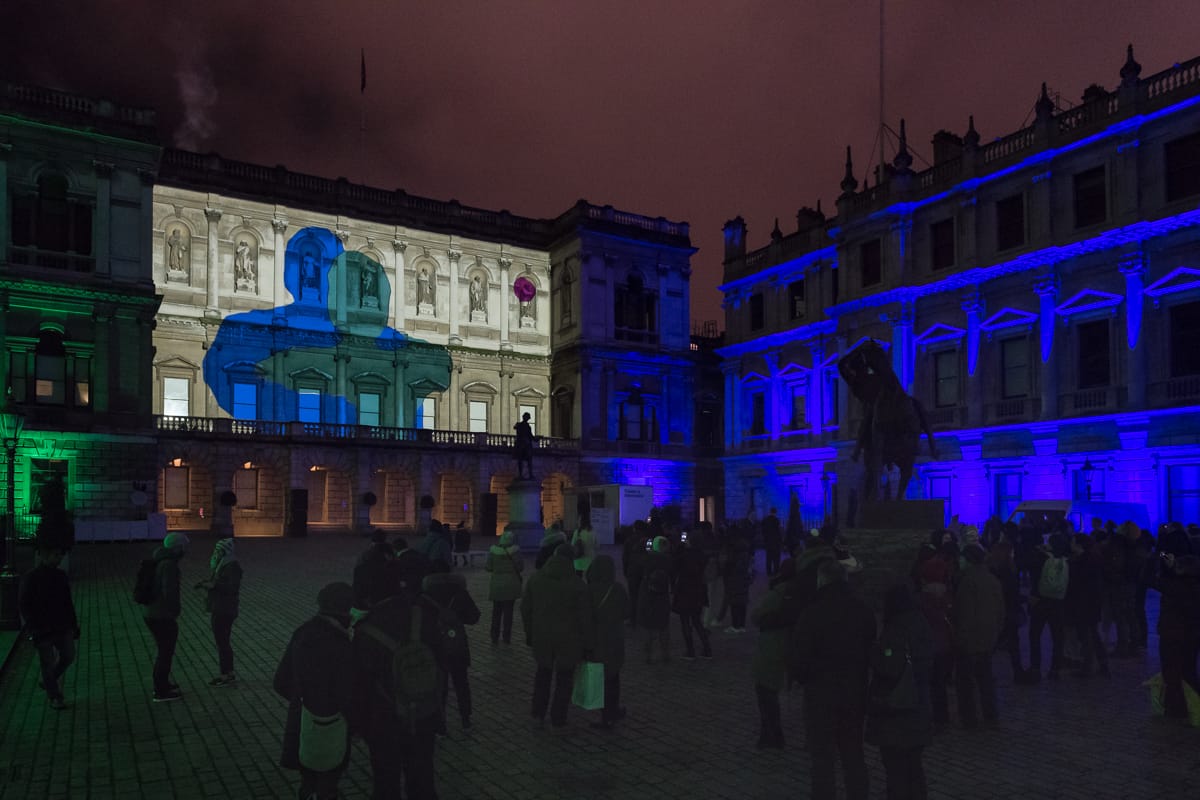 JN: The Royal Academy of Arts in London has a long history of collecting and presenting architecture and design alongside the visual arts. One could argue, it paved the way for MoMA's vision in New York in 1932 to establish the world's first architecture and design department in a fine art museum. How did this institutional legacy impact your work in-house and how is it relevant to your practice today as an independent researcher and curator?
KG: Working with artists and architects in a space not dictated by the government or the constraints of a professional body allowed freedom and creativity. I could test and trial ideas for architectural programming and exhibiting in the early days at the Royal Academy, often in challenging and varied spaces, on and off-site that required imaginative thinking. These experimental beginnings have informed all my subsequent work. It has been an incredible experience working in such an established cultural institution in the heart of one of the most vibrant cities in the world. By contrast, the freedom and energy of what happens on the relative edges has captivated my interest.
JN: Architecture is gaining pace and position within the broader cultural landscape. In 2018 the Royal Academy celebrated its 250th anniversary with renewed commitment to architecture by developing a new campus designed by David Chipperfield Architects. While these milestones clearly reflect the discipline's growing relevance within the institution and in society as a whole, we also know it is enabled by significant private patronage. What can patrons bring to the cultural discourse and where does Australian patronage stand on the world stage?
KG: In my experience the voice of an independent patron can be very powerful in advocating for and inspiring decision-makers and the public. Bold and courageous patrons as clients and/or content supporters can enable experimentation and the opportunity to take risks – often not possible within government systems and funding structures. This can be especially important for young and emerging practitioners. Equally, architecture often does not readily hold a place in cultural organisations and significant endowments, such as ones from the late Drue Heinz, have assured it is part of their collections and public programming at institutions in the US and Britain. More recently Lloyd Dorfman's Family Foundation supported architecture at the Royal Academy through a capital gift for the refurbishment of Victorian Fine Rooms, a permanent architecture studio and a new international architectural prize now in its fourth cycle.
KG: In Australia until recently, private philanthropy has been the driving force in the culture of architecture with the likes of Naomi Milgrom and the M Pavilion in Melbourne and Gene Sherman with her namesake Foundation and Centre for Culture and Ideas in Sydney. More recently, developers such as Molonglo have commissioned experimental projects from architects such as Chile's Pezo von Ellrichshaussen (who featured in Sensing Spaces) and the British practice, 6A Architects; along with important research papers and publications. Public institutions have been slower on the uptake in Australia, but I do believe there is a strong public appetite and need for meaningful discussions about architecture.
JN: What are your plans as an independent researcher and curator based in Australia?
KG: In the spirit of dialogue and flow, I am embarking on a new journey, the outcome of which is unknown. An unexpected extended stay in Darwin last year has cultivated new projects and perspectives on Australian architecture. Along with teaching at Sydney University, and a curatorial and strategic role with the Tin Sheds Gallery, I received the Byera Hadley Travelling Scholarship to look at the architecture of the Indigenous Arts Centres of the Northern Territory. I have already visited a few remote Aborginal art centres in the Top End, documenting their buildings and how they are serving the Communities. I hope to get to the Central Desert soon to complete the project. I also intend to cultivate my own creative practice and continue to find ways to share and explore ideas.
JN: Cultural discourse is changing rapidly. Civic justice movements, including Me Too and Black Lives Matter, are impacting all facets of contemporary life, work and space. How can architects, designers and cultural commentators contribute meaningfully?
KG: Architecture is always political and it is vital to address social and environmental justice and equality in what we build and how we do so. We need to assure under-represented voices and narratives are thoughtfully represented in the built environment and in popular discourse. I believe it is important to continue to expand our knowledge of the spatial, social and cultural landscapes we inhabit, which takes careful looking and deep listening, especially in Australia today.
JN: Your Instagram account is a live tutorial on Australian architectural history; capturing  buildings in Sydney, Melbourne, Darwin and Perth, from the colonial to the modernist and contemporary. Is this a conscious effort to share your experience and knowledge with an international audience, or simply a 21st century travel journal?
KG: Over the years I have had the opportunity to visit amazing cities and places across the world and I enjoy framing, capturing and researching the buildings I find. As well as being a vital aide-memoire, Instagram is a fantastic way to share these discoveries. While I have photographed buildings of all scales and types, I have been particularly impressed by the designs of public toilets in Australia – appreciating the value that has been placed on an important public amenity. Photographing and posting on social media has also been a means through which to get to know a place, as I have done recently in Darwin, finding that the city's architecture is not well documented and I have sought to rectify.
For original version click here