"Recently I took part in a residency programme in Budapest, I was living in Buda for a month and from there I walked often downhill to Pest with a soft smile touching all over my face. The city carries a gentle silence: for moments I thought I was taking part in a silent movie, in one of those movies that once were screened in the glorious New York Café in Pest. I walked a lot, I saw the Danube and everyday I practiced the art of remembering. To remember is obligatory in Budapest and when you remember in Budapest you might not want to comeback because in Budapest like in Havana, the present is willing to happen only if a better future comes by. With subtle care I took memories into my hands and with joy I decided to focus exclusively on fragments. During a month I didn't pay attention to anything else. Little pieces that I know once belonged to a complete picture, to a picture that once made complete sense".
– Diango Hernández, 27 January 2011
Exhibition
17 November 2010 to 30 January 2011
Artist's Talk and Book Launch: 18 January 2011
Venue: Blood Mountain, Vérhalom utca 27/c, Budapest 1025, Hungary
The new works, produced by Hernández during Blood Mountain's inaugural residency and presented as his first solo show in Hungary, pay tribute to Budapest's tradition of independent creative practices and its rich culture of second-hand goods. He applies a process of finding, assembling, creating and re-appropriating materials sourced from flea markets, antique dealerships and a specialist artisan workshop. His exhibition, "a kiss, a hat, a stamp", enables found objects to take on new forms and new meanings in this new setting; focusing on fragments and edges, rather than whole objects and surface areas. The show comprises two sculptures, two wall paintings, a collage and a site-specific installation in collaboration with Valéria Fazekas, alongside a special commission by her, a key member of Hungary's diminishing artisan community.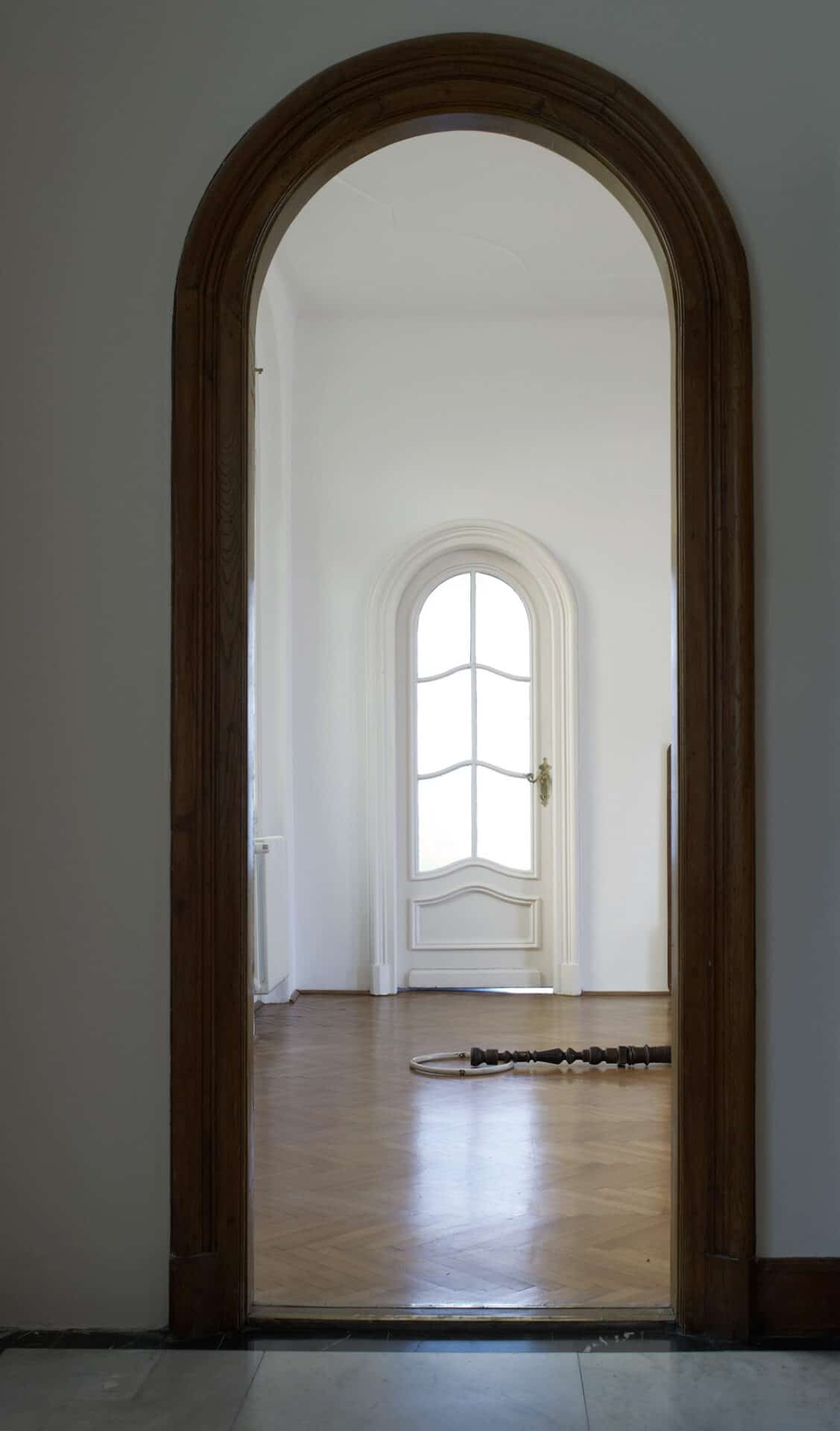 A Kiss
Diango Hernández's artistic practice is at best described as 'conceptual': inspired by versions and visions of many lived realities. It is deeply rooted in his Cuban upbringing of the 1970s and 1980s and therefore well-versed in the attitudes and visual semantics of the Soviet era. Objects are found, materials are re-appropriated and political rhetoric is handled with lived intelligence, subtle humour and personal sentiment.
The artist relies on the inherent narrative and beauty of 'the incidental': a chance finding and grouping of objects, which create new 'entities' and at once discuss and disguise the artist's fascination with them. The selection and placement of these objects, however, is not incidental: the meeting of two materials is destiny and fondly described by the artist as A Kiss.
Hernandez's poetic artistic approach and Hungary's own history as a former Soviet satellite state were an obvious match for Blood Mountain's first artist-in-residence. His residency comprised three tireless weeks of looking, finding, assembling and re-appropriating materials from flea markets, antique dealerships and a specialist artisan workshop. The new body of work became a tribute to the city's heritage of independent creative practices and its rich culture of second-hand goods.
At Blood Mountain's premises, the first of three exhibition spaces presents two free-standing sculptures. They consist of a tabletop, a table's edge, a mirror's frame, furniture fragments, porcelain details and an old stamp. Positioned loosely across from one another, Object 1 is solid and rectilinear, while Object 2 is transparent and circular. Object 3, positioned on the herringbone parquetry between the two other works, is a horizontal totem pole made of functional and decorative furniture components. It appears as a tribute to the Transylvanian woodwork that characterises much of Hungary's rural built environment and to Brancusi's signature totem poles. Local audiences would also recognise its reference to the region's aesthetic motifs and the materiality of period furniture, which would have decorated the halls of Blood Mountain villa in its heyday: a former family estate built during the Habsburg era.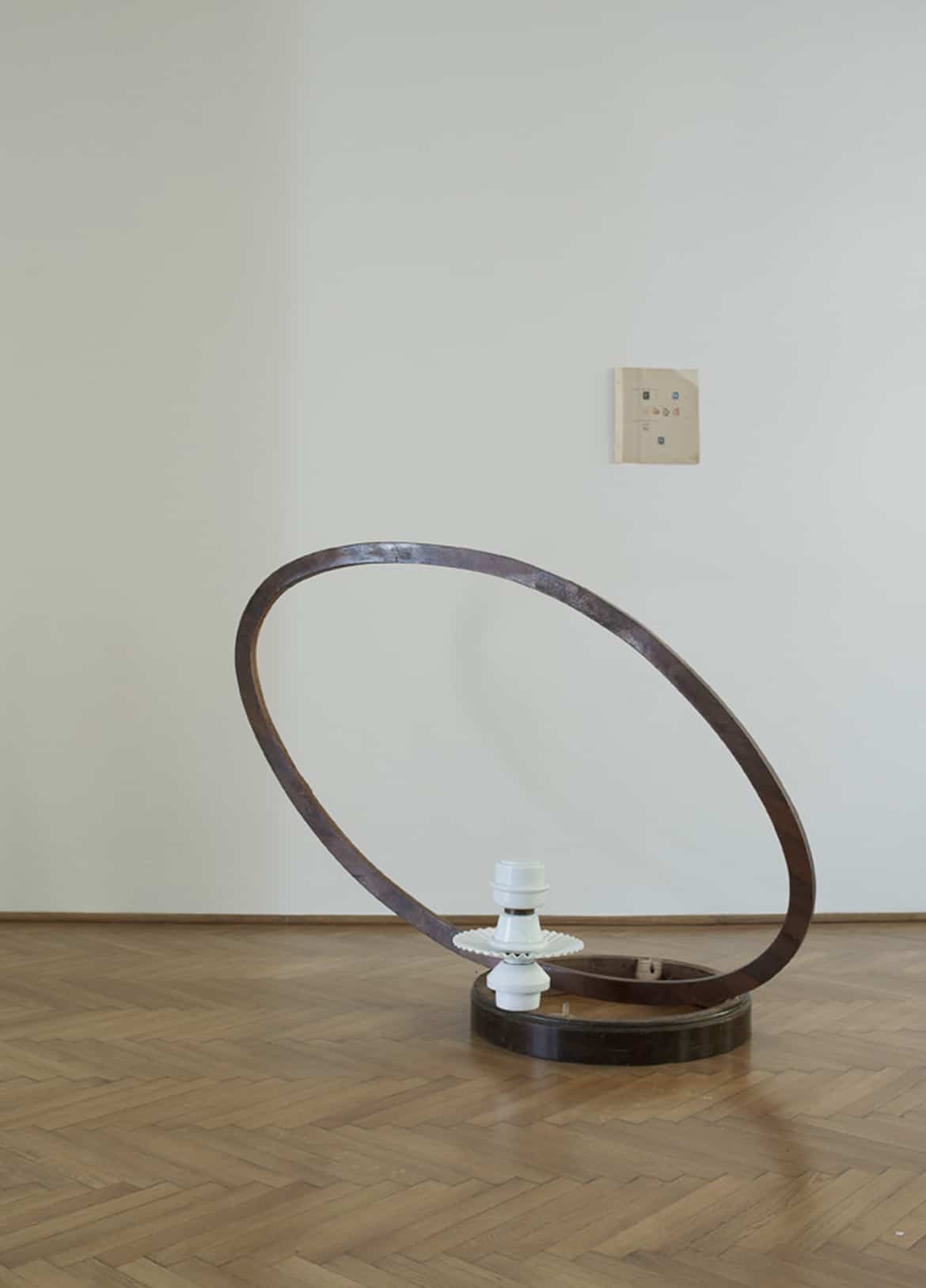 The installation's resemblance to the character and layout of Budapest is uncanny: at once divided and united by the voluptuous floor piece (Object 3: the Danube River); it is voluminous and airy on one side (Object 1: Buda), compact and grid-like on the other (Object 2: Pest). The white ceramic detail of the former is symptomatic of the socialist structures that came to inhabit the once elegant hills of Buda; while the latter's gregarious curves and rich colours recall the grand neo-baroque style of Pest.
The installation is completed with a grouping of white ceiling lamps (Object 4) and a torn page from a socialist era stamp collection (Object 1, detail), which is displayed on the stark wall in anticipation of the exhibition's continued narrative.
A Hat
Beyond the discovery of poignant objects and emotive elements during the residency, Hernández also encountered local artists and crafts-people, whose professional expertise and personal engagement became defining factors in realising his project. One such 'find' was Valéria Fazekas, a beacon of light in Hungary's diminishing artisan community.
Fazekas creates wearable objects in felt to express a dialogue between the past and  the present. Trained as a milliner at the height of socialism in the 1980s, Fazekas' education at once embodied Budapest's pre-war celebration of The Modern Individual, the culture of custom-making, and also stood in contrast with the de-personification and industrialisation of her times. Even in light of today's liberal climate, the expressive nature of her work is often misinterpreted as extravagant, rather than expressive and individualistic. Hernández's discovery of her practice and its re-contextualisation as an expression of contemplation, beauty and deep sentiment, are insightful reflections on his own practice.
The key architectural feature of Space 2 is a built-in bookshelf made of dark wood and exceptional skill. Rather than disguise its dominant appearance, Hernández chose to integrate it as one of the strongest statements in the exhibition. Twenty unique headpieces made by Fazekas in shades of grey and black are displayed on a shelf above eye level (a book, a shelf, a race). They hover gently above a horizon line created below by a queue of original press photographs, depicting images of industrial life, new architecture, sport and recreation of a bygone Soviet era.
By displaying the metaphor for human intelligence above the rhetoric political dogma, the installation becomes a stunning example of Hernández's signature style of social critique and as a poignant reminder to Joseph Beuys' own practice in 'social sculpture'. Monotone and indifferent from a distance, the felt pieces become increasingly unique and intriguing on closer inspection. In contrast, the black and white propaganda shots become blurry and generic in impression. The result is a moving comment about the Budapest's past and present, and about the two artists' mutual experience of socialism and compatible working conditions and artistic features.
Hernández and Fazekas derive from similar cultural backgrounds and despite their linguistic differences, a similar visual vocabulary characterises their respective practices. Their working methods are also comparable in that they both adopt and adapt ideas, materials and motifs from the past to create something new and contemporary.
The Space is completed by a suspended sculpture, commissioned by Hernández and created by Fazekas (Object 6). Suspended from the ceiling as a triangular string installation, the object at first appears as an exotic fruit, characterised by a furry surface and meticulous symmetry. On close inspection however, it is a reminder of a felt piece presented on the bookshelf: rotated, replicated and seamlessly joined. The once wearable object is now re-interpreted and rendered dysfunctional, enabling it to exist exclusively as a work of art, and not as an object of fashion or design. Its desirability has been transported from the tactile to the metaphysical. The work's presentation is completed by a black and white press photo, selected from the same collection as presented on the bookshelf and echoing the wall piece accompanying Object 2 in Space 2.
The resemblance between Fazekas' new work piece and Brancusi's Kiss, an important sculpture series exploring the intimacy of an embrace, also creates another layer of dialogue with Hernández's own tribute to Brancusi (Object 2). Notably, both artists were unaware of each other's intentions and inspiration. A Hat has thus facilitated the fortuitous meeting of two minds, who intimately know the worlds of socialism and the present, and intricately move between multiple spheres of visual culture.
A Stamp
The third and final space is the artist's studio, where Hernández lived and worked during his residency. Next to a made bed, a long timber bench represents his working process: books, sketches, drawings, found objects. A nearby projector showcases examples of a stamp collection he sourced at the local flea market.
Long out of use and almost comical in their naïve visual tone and low currency value, the stamps stand as quiet reminders of the Soviet era of which the found photographs also bespoke. The exhibition is thus complete and the process of exiting it in reverse become an analogy for Hernández's working method: reflecting on past narratives and revisiting their material world for fresh ideas and tangible inspiration for the present and future.